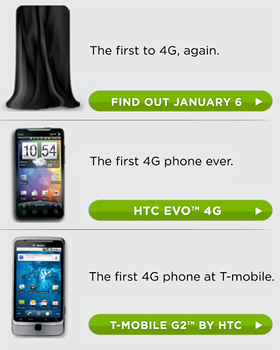 The first to 4G - for the third time. Except of course it really is for the first time. But don't let carrier's aggressive marketing get in the way of the exciting tease from HTC - a new 4G phone to be announced on January 6 at CES.
Let's bust a few myths first - the "first 4G" phone for T-Mobile, the
T-Mobile G2
, is an HSPA phone (3.5G-3.75G depending on who you ask). The "first ever" 4G phone, the
HTC Evo 4G
, has WiMAX connectivity - a different type of radio altogether, but still not 4G.
So, what's under the veil? It's likely that it will be the HTC Incredible HD (a.k.a. Mecha), which should be headed to Verizon's shiny new LTE network (an actual 4G GSM network). We don't know much about the Incredible HD, except that it will run Android and a
small pic
that leaked a while ago, which is in all likelihood just a placeholder (it looks a lot like
HTC Hero
).
Also a mystery at the moment is what the 2mymob.com teaser site is about. Anyway, we'll find out more about the HTC Incredible HD once the New Year celebrations die down and CES starts